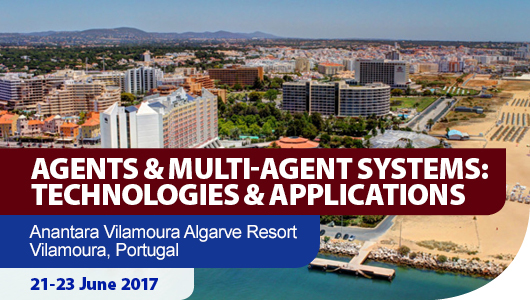 11th International KES Conference
---
Welcome to KES-AMSTA-17
KES-AMSTA is an international scientific conference for research in the field of agent and multi-agent systems. Agents and multi-agent systems are related to a modern software paradigm which has long been recognized as a promising technology for constructing autonomous, complex and intelligent systems.
Consisting of keynote talks by experts in the field, oral and poster presentations, AMSTA-17 provided an excellent opportunity for researchers to discuss modern approaches and techniques for agent and multi-agent systems and their applications, as well as intelligent systems in the field of social networks, self-organisation and trust.
Proceedings
The conference proceedings will be published by Springer as book chapters in a volume of the KES Smart Innovation Systems and Technologies series, submitted for indexing in Scopus and Thomson-Reuters Conference Proceedings Citation Index (CPCI) and the Web of Science.
Smart Digital Futures
The conference was part of the Smart Digital Futures 2017 multi-theme conference which groups AMSTA-17, IDT-17, IIMSS-17, InMed-17 and SEEL-17 in one venue.
The event took place at the Anantara Vilamoura Algarve Resort.
Winners
Best Research PaperAward: A self-adaptive system for improving autonomy and public spaces accessibility for elderly
Authors: Phd Student Triki Sameh, Professor Hanachi Chihab
---